Accountability
We share what we've done each day and what we plan to do in the next day. Each day we pick one frog to do, share it, and eat it - yum 😋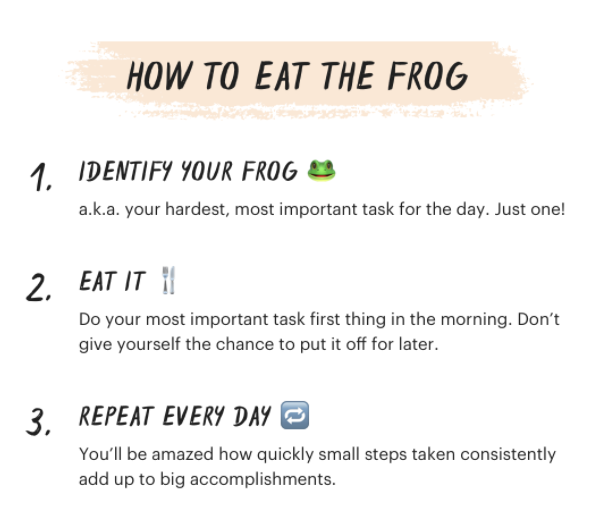 Doing this everyday keeps us accountable to ourselves and each other, makes sure we're working on our most important tasks, and gives us a chance to offer help.
Daily chat message
This is as simple as sending a daily chat message to the Accountability chat group with:
Whether I ate my frog yesterday? ribbit
What frog I'm working on today 🐸
The current RAG (red, amber, green) status of our projects. Note that if the scope changes the RAG status should reflect the new scope:

🟢 I think it will be delivered on target
🟠 I think it will be a day late

If a project moves to here we offer to help each other

🔴 I think it will be more than a day late

If a project moves here then we talk about changing the scope of the project
Getting and offering help
As much as we might wish to eat our frog every single day, sometimes we may not be able to. Don't suffer alone, ask someone if they can help.
On the other hand, if you see someone has had the same frog for the third day running then reach out and offer help. They may really appreciate it 🙏